On Saturday, November 23rd, we went to a day-trip to London. We took a train around 8.45 AM, and we arrived in London (Paddington) after 10 AM.
From Paddington, we took the tube to Piccadilly Circus. We chose Piccadilly as our gathering place. Piccadilly Circus is easy to find, partly because it's very central, but also because the traffic between the circus and the rest of London is good. In the southwest of the circus, a statue of the Greek god Eros is erected. And now, by Christmas, the statue is made into a huge snow globe!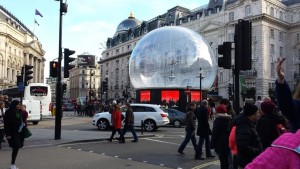 After a quick meet-up, we took our separate ways. We had to be at least two people in a group, and not lose each other. Some went to the shopping whilst other went simply enjoying London or window shopping.
By shopping, we mean that some people went all-in and took the tube to Westfield in Stratford. That is the biggest shopping centre in Europe. They have around 400 shops.
So the day was filled with fun stuff! Although, some people thought London was way too populated, "smelly" and expensive for their liking, whilst others loved every single bit about it.
We got 20 pounds to spend on an attraction; such as London Eye or Madame Tussauds. Most of the people went to the London Eye. The sight there was incredible; to see London from above in the nightfall, when all the lights are shining and traffic is slowly roaring on the streets below you – like ants with lights. Just as if the city moves on in the same "big-city-tempo", whilst you are floating above in the air where no one can see nor hear you. That is a beautiful sight that shall never be forgotten.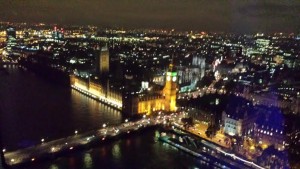 (By Casper, Lovisa, Wilma, Moa, Oscar and Marcus)