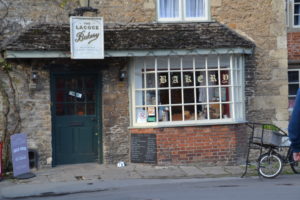 On Saturday we went to the old village Lacock by bus. First we went to Stonehenge and after that we went to Lacock. The village is from the 13th century and there are  lot of old houses. It is often used a location in TV and filmproductions, for example Harry Potter and Jane Austen's Pride and Prejudice.
Many visitors go the the village because it feels like you go back in time. The village is owned by The National Trust and the people who live there rent the houses from The National Trust.
This house is the one that Harry Potter's parents lived in when Voldermort came and Harry got his scar.